6 Bedtime Routines and Sleep Rituals for Better Rest
The best habits we can develop are those that keep our health in check such these new at-home teeth whitening kits before going to bed. Whether we make a point of reaching for the sugar-free yogurt with our breakfast in the morning to instilling an evening ritual around going to the gym, these practices we develop become easier over time. Eventually these habits become second nature and a part of who we are, but this comes with discipline and regular implementation. What is often accompanied with good habit formation is the elimination of unhealthy or opposing habits that keep us from reaching our goals. An example we could easily point to is eating right – we might choose to forgo the dessert we normally treat ourselves to after our daily lunch if our goal is to lose weight.
So why can it be so difficult for so many people to form the right bedtime routines that help keep our sleep schedules in check? Most people know that they should be getting 7-8 hours of quality rest every night, and yet for many of us, we become more active in the evenings, making it harder to commit to stick to the plan. According to the American Sleep Association (ASA), the amount of adults who experience regular sleep deprivation hovers around 40%. And although many people choose to turn to prescription drugs for more serious sleep deprivation conditions, these solutions don't come without their set of side effects that many would prefer to do without.
Although everyone's unique body chemistry might make some practices more appealing or effective than others, there are still a number of bedtime routines that can, across the board, help the majority of people wind down and get to sleep faster. So, from supplements to lifestyle alterations, here are our favorite bedtime routines and sleep rituals to promote better quality rest.
1. Reach for a Dense Book
This might seem like a common sense, age-old trick, but consciously choosing to dive into a rather dense book is actually a tactic that also helps prevent some habits that could be making it harder to fall asleep. The key here is to settle into bed at least 20 minutes before your scheduled bedtime and set all your appropriate alarms prior to picking up your book. Once your phone is charging and your alarms are set, dim the lights enough to the point where your eyes are not straining when you're reading, and pick up your selected book. Make an effort to try not to touch your phone during this time, so set an alarm for your scheduled bedtime so you don't have to constantly check your phone. This is important because the blue light your phone screen produces is known to mess with your circadian clock rhythm and inhibit your body's natural secretion of melatonin, which actually makes it harder to fall asleep (Psychology Today). Conversely, research has revealed that reading at bedtime is associated with longer nighttime sleep, while other studies have linked reading to stress reduction. Getting into the habit of incorporating reading into your bedtime routine might help you reap the benefits of both reducing phone use before bed, while reducing stress and increasing your sleep quality.
2. Enjoy an Herbal Tea
One particularly popular way to unwind before bed is with certain herbal teas that have been studied to improve sleep quality. This practice can also be perfectly paired with the above recommendation of reading before bedtime – what better way is there to enjoy a book than with a hot mug of tea? However, if you plan on incorporating this into your bedtime routine, we recommend you finish drinking your tea about 20-30 minutes before turning off your light and going to sleep so you give your body ample time to use the restroom before bed (no one likes to get up in the middle of the night to go to the bathroom).
Which herbal teas for sleep are the best? One of the most universally recognized herbal teas for better rest is Chamomile, and is often combined with lemon balm or lavender to create a delicious and soothing bedtime tonic. Chamomile benefits sleep because it contains apigenin – an antioxidant that stimulates certain brain receptors to help promote sleepiness. Many studies have displayed Chamomile's effectiveness at both keeping the body asleep while simultaneously decreasing the time it takes to fall asleep. One experiment found that participants who took 270 milligrams of chamomile twice daily experienced a 30% reduction in waking up in the middle of the night, while also a 15-minute reduction in the amount of time it took to fall asleep. Remember to avoid adding too much (if any) added sugar or honey into your chamomile tea at night to prevent the sugar from making it harder to fall asleep.
3. Stretching Before Bed
One of the less obvious rituals that has proven to be very effective in promoting better quality rest is stretching before bed. Research has shown that "meditative movements" that intentionally stretch the muscles improved the sleep quality of participants overall, while simultaneously showing improvements on mood and physical well-being. The meditative movements referred to in this particular study were yoga and tai chi, however these findings can be extended to encompass other slow stretching practices that reduces the body's stress levels and releases endorphins.
Try dedicating 5-10 minutes to do a few important stretches before crawling into bed. One of the simpler stretches most people know how to do already is the seated forward bend. While sitting on your butt, extend your legs in front of you without bending your knees. Then, reach for your toes with your fingers, allowing the muscles in your back and legs to stretch. Doing stretches like these have been studied to improve circulation to your muscles, which could also help with the rebuilding of your muscles after exercising.
4. Unwind with Essential Oil
Not only do classic essential oils make for a comfortable, pleasurable living experience for their enjoyable scents, but they have the ability to affect the brain's chemistry in ways that induce better sleep. For example, one study found significant positive affect in the majority of participants who suffered from mild sleep disturbances. After regular inhalation of essential oils, improvements in overall sleep quality and quantity were observed. While this study focused primarily on the benefits of lavender essential oil, there is some evidence that points to essential oil blends as being the most effective essential oils for sleep. One study in particular compared the effects of standalone lavender essential oil, acupressure before bed, and a blended oil containing lavender, clary, and marjoram. Participants who used the blended essential oil ended up experiencing the most sleep quality benefits compared to the other groups, suggesting that such blends intended for sleep might be more effective compared to standalone oils.
So how does one use an essential oil for sleep? While they are primarily used for inhalation, practice can be facilitated in a number of ways:
Rubbing several drops between the wrists and on the ankles, and enjoying the gentle scent the oil produces
Wafting the aroma from your open essential oil bottle into the nostrils, inhaling gently
Placing several drops into your reed or water vapor diffusor, and letting the diluted aroma fill the room you are in
5. Mindfulness Meditation Before Bed
Along with offering a myriad of other benefits such as stress-reduction and helping to lower cortisol levels in the body, the practice of mindfulness can also significantly improve sleep quality. According to one study published in the Journal of the American Medical Association, this ritual has shown significant improvement in sleep quality among adults who suffer from sleep disturbances. Other research has even shown that mindfulness meditation techniques can improve sleep quality among cancer patients who might otherwise suffer from poor sleep due to pain or the impact of invasive medications.
So what does this practice entail? Rather than trying to clear the mind, this practice encourages people to bring awareness to the sensations and stimuli our bodies are experiencing moment-to-moment. An easy way to get started is to focus on breathing – take five minutes to close the eyes and focus on the sensation of the air being sucked in through your nostrils while your lungs fill up with oxygen. Then, allowing yourself to be aware of the feeling of the air exiting through the mouth as it passes over your tongue and past your teeth. Similar to most rituals, this type of meditation is a practice, and becomes easier and more effective the more often it is performed.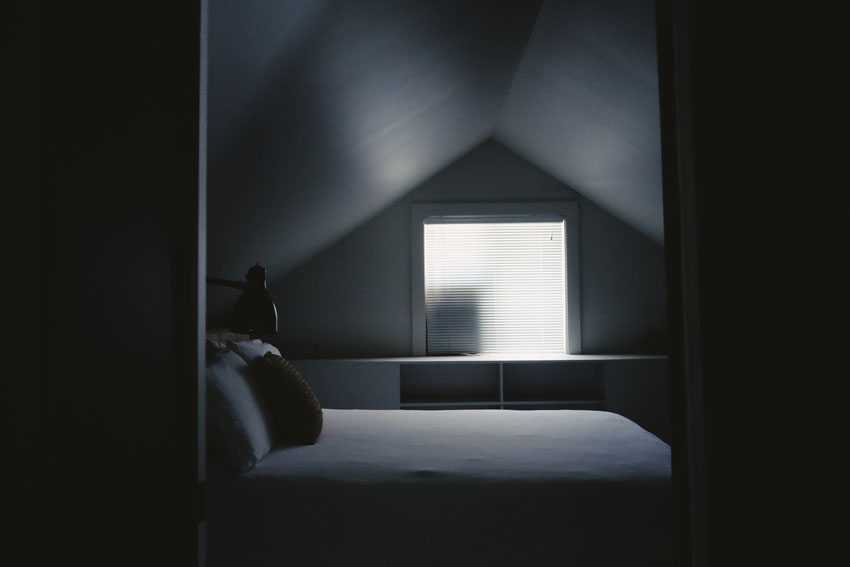 6. Lower the Temperature in Your Bedroom
Have you ever noticed that you get higher quality sleep when you choose to sleep with the windows open on chilly autumn nights? This is due to the fact that the body associates a lowering temperature with the signaling of sleep. While there is a limit to how cold it should be in your bedroom while sleeping, sleep.org cites the best bedroom temperature while sleeping should hover between 60 and 67 degrees. This coincides with the body's natural depression of internal temperature while sleeping, which tells your body that it's time to wind down and relax. If you don't live on a noisy street and the temperature outside is chilly, one of the best ways to reap the benefits of a lower bedtime temperature is to allow fresh air to circulate the room while you sleep. You might also choose to circulate the air in your bedroom with a rotating fan, or use a cooling mattress and a bamboe kussen to regulate your body temperature while you sleep.