Ensō Supergreens Review: The Good, the Bad & the Ugly
Health has been the lowest of all my priorities in recent years. Between raising three kids, caring for the family dog, and keeping the house running smoothly, trying to find ways to sneak in healthy eating has been the last thing on my mind. But years of neglecting my health have started to catch up.
I noticed a few months ago that an upset stomach, constant fatigue, and hypertension were becoming the norm for me. So, I started looking for something—more accurately, anything—to help. It was a friend who suggested I try Ensō Supergreens. I laughed at first and did not believe that a super greens powder would help. But still, I found myself ordering my first container of the greens powder later that night.
Surprisingly, this organic supergreens mix didn't taste like other green powders I've tried, and I noticed changes within the first week of using it. Not to mention that one scoop of the green powder was nutritionally dense and packed with digestive enzymes and a unique probiotic blend. That's why I wanted to share my skeptic-turned-dedicated experience with Ensō Superfoods.
The Highlights
For those who don't know about Ensō Superfoods, let me introduce you. An organic super greens mix made in California, Ensō's best selling green juice mix has the essential nutrients your body needs to feel balanced and healthy. It's free of artificial sweeteners and is certified organic. But what shocked me the most was the taste. So many greens powders claim to taste good. Ensō's organic super greens powder is the only one I've tried that truly is delicious! It's free of gross greens flavor, so it's perfect for my picky palate.
Though Ensō's super green powder is my go-to formula, like all things in life, it's not perfect. So, I rounded up my pros and cons of Ensō Supergreens dietary supplement to give you a quick idea of what to expect:
Pros:
Packed with the vital nutrients your body needs to feel healthy and energized.
Supports gut health and eases tummy problems with help of peppermint, digestive enzymes, and probiotics.
Uses ingredients rooted in ancient nutrition.
Contains burdock root to fight inflammation, which has helped ease some of my lingering joint pain or post-workout aches.
Genuinely tasty! Say goodbye to those overly-earthy greens powders—Ensō's superfoods mix is one of the best greens powders if you're worried about flavor.
Organic ingredients like organic chlorella, organic supergreens, and organic spirulina.
30-day money-back guarantee.
Cons:
Only available online—Ensō's products are unavailable at local grocery stores. So, using this formula requires planning and ordering another container before running out.
The bottom line
Ensō's organic dietary supplement is one of the best greens powders on the market. It's an easy to mix powder that is super versatile, making it perfect for getting your daily probiotics, digestive enzymes, and fruits and vegetables. The only drawback is that it is only available online.
Everything Important About Ensō
The most important thing about Ensō's green superfood mix is that it's not only super healthy but also makes health super easy. All of Ensō's products are certified organic and include ingredients that have been used for thousands of years in ancient nutrition. Unlike other green juice powders, there is nothing on the label that you can't pronounce or won't recognize!
The greens powder has good for you natural ingredients like organic ginger roots, organic broccoli stalk, organic kale leaf, other green vegetables, and a mix of digestive enzymes that support gut health. Plus, there are no artificial sweeteners, added sugars, synthetic fertilizers, or fillers. But my favorite part of their blend are ingredients like chlorella that help improve focus, mood, and energy. Ensō's nutritional powder has healed my gut and boosted my mental well-being with minimal effort.
Here is a quick look at other important facts that set Ensō apart from other greens powders:
100% certified organic, vegan, gluten-free
Free from added sugars, sweeteners, or fillers
Simple and fast to make
Easy to mix powder that easily blends into a morning smoothie or drink
Filled with dietary supplements including antioxidants, vitamins, probiotics, and digestive enzymes
One scoop of greens powder provides your daily fruit and vegetables
30-day money-back guarantee
With so many physical and mental benefits, Ensō has made investing in my health easy to manage while juggling the responsibilities of my family.
What is Ensō Superfoods?
Ensō Superfoods is a certified organic greens powder that is packed with all the essential nutrients you need in one scoop.
Made in California and marked with the organic seal, the vegan and gluten-free greens powder includes 19 superfoods, digestive enzymes, and probiotics. The brand offers three different mixes–supergreens, vitality, and recharge. Though the organic supergreens blend is my favorite, the recharge and vitality mixes include other fantastic ingredients like organic turmeric root, organic pomegranate fruit, organic goji berry, and organic beet root. Based on the reviews for the vitality blend in particular, people found this helpful for improving their energy and focus even more!
Across all three of these greens powders, you'll find well-known ingredients like organic kale, organic spinach leaf, organic peppermint leaf powder, and organic ginger root. Lesser-known natural ingredients like organic alfalfa grass juice, organic wheat grass, organic nettle leaf, and organic chlorella are also used to boost its nutritional potency. Many of the ingredients were selected since they've been used for years in ancient nutrition.
This innovative brand also makes it easy to understand what you're putting in your body. Unlike some green powders with complex ingredient lists, Ensō Superfoods provides detailed information online about every ingredient. No more hidden ingredients or names you can't pronounce!
With this unique blend of nutrient-dense foods, organic greens, and digestive enzymes, plus their transparent approach to health, Ensō Superfoods makes it a cinch to feel better, look better, and live better every day.
The Ensō Superfoods Nutrition Everyone Needs to Know About
Only 1 in 10 adults in the US eats enough fruits and vegetables (CDC). Not only does this create a deficiency of vital nutrients, but it increases your risk of chronic diseases like cardiovascular disease, type 2 diabetes, and obesity. But this isn't an issue just in the US—nearly 7 million deaths worldwide were attributable to a deficiency of fruit and vegetable intake below the recommended 500g/day.
Discovering Ensō was game-changing for my health because it gave me the daily nutrients I needed in a single scoop. Because Ensō makes getting your recommended nutrients simple, it is the perfect solution to incorporate into a wide range of lifestyles. Plus, it doesn't require any special equipment to make! One scoop of the easy-to-mix greens powder provides you with your daily amount of nutritious vegetables and leafy greens.
How Does Ensō Superfoods Taste?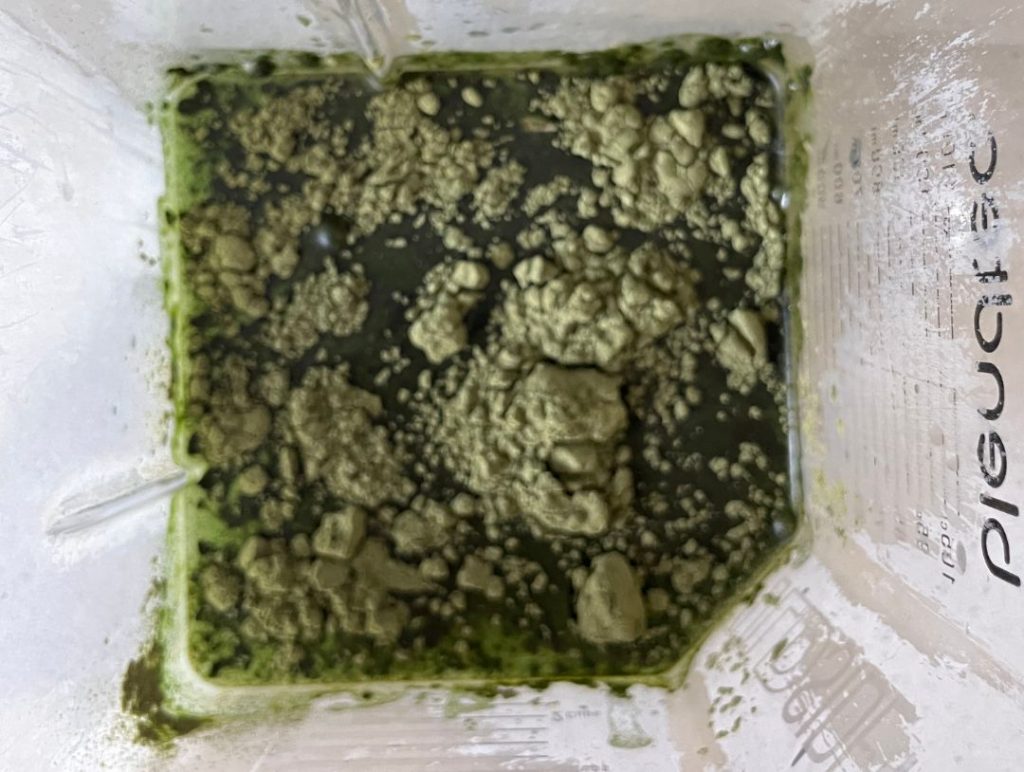 What surprised me the most about Ensō's organic supergreens powder was how good it tasted! Refreshing, a hit of mint, and incredibly smooth. Some mornings I mix it with steamed milk or my favorite vegetable juices; other days, I add it to my morning smoothie. Regardless of how I use it, the flavor is incredibly delicious and never overpowering. Even my partner agreed that Ensō's nutritional powder is unlike any other greens powders we've tried before!
Unlike other greens powders, Ensō's formula is easy to mix. Every time I've used it, the powder doesn't clump, making it perfect for a smoothie, fruit blend juices, and milk. For a person who is not a fan of most green powders, this is by far one of the best greens powders I've tried.
Before trying Ensō's green superfood blend, I read countless verified purchase reviews about the product. All the comments I read are reviewed in the United States and claim the same thing—that Ensō makes one of the best greens powders on the market. Of course, I was skeptical and assumed it would have the same grassy taste as most green powders. However, my family and I agreed that this is the best greens powder we've tried!
What We Love About Ensō Supergreens
There is a lot to love about Ensō Supergreens! What I love the most about this greens powder is its easy use. I've become healthier, feel better, and have more energy now than ever. I can guarantee that my responsibilities at home haven't changed. But Ensō makes healthy eating doable no matter how easy my schedule is.
The other thing that won me over about Ensō Superfoods is the taste. Like I said before, it is nothing like the other dietary supplements on the market! I love knowing that my Ensō mix is a delicious powder form of less-appetizing leafy greens, so there is no greens flavor. Ensō's dietary powder is refreshing and something I look forward to regularly. It is one of the best greens powders out there if you're worried about an unappetizing greens flavor.
Finally, this green juice powder is packed with organic fruits, vegetables, and dietary supplements rooted in ancient nutrition. I love knowing that I can give my body the nutrients it needs daily with little effort.
The Things We Weren't Too Crazy About with Ensō Supergreens
The biggest drawback to Ensō Supergreens is that it is only available online. So, if I'm running low, I need to take time to order my next container—not to mention that I need to order it far enough in advance that it arrives by the time I'm completely out! Plus, the cost of shipping adds to the already expensive price tag. However, these cons are worth it with the noticeable benefits I've gotten from incorporating Ensō into my diet.
I also wish Ensō's mix included more immune-boosting supplements. Organic elderberry and organic acai berry are some of my favorite antioxidant and immune-boosters but none of Ensō's three mixes include these ingredients. I also hope to see Ensō add some fiber-dense ingredients to their supergreens like organic chia seed, organic flax seed, or organic carrot root.
Do We Recommend Ensō Supergreens?
To answer this question simply, yes! Especially if you're a busy parent who is always on the go, Ensō is a quick and easy way to care for your body. Between the physical and mental benefits, genuinely good taste, and natural ingredient list, it is easy to justify the high price tag for this product.
If you're still skeptical, other verified purchase reviews give great insights into the effectiveness of this product compared to other greens powders. All of the Enso Supergreens reviews online are reviewed in the United States by credible websites. Some people found this helpful for treating their gut issues, strengthening their immune system, and improving their skin. Not to mention that their 30-day money back guarantee makes trying this powder risk-free–if you don't like it, just return it!
Ensō Supergreens Key Ingredients
Ensō's health supplements have some great and certified organic ingredients. Here is a closer look at some of the key ingredients in Ensō's greens powder.
Spirulina Powder
Spirulina is a fantastic source of Vitamins A, B1, C, Riboflavin, folic acid, calcium, and zinc. Plus, it has minerals, micronutrients, and antioxidants. What's shocking is that these are all naturally-occurring vitamins and minerals in spirulina root!
Benefits of organic spirulina include:
Plant-based protein source
Anti-inflammatory
Helps to lower cholesterol levels
Immune support
Burdock Root
By itself, burdock root is incredibly bitter. However, you can't taste it at all in the Ensō greens powder! Burdock root:
Peppermint Leaf Powder
One sip of this Ensō's greens powder will clue you into this essential ingredient. The powder's delicious and refreshing taste comes from organic peppermint leaf powder. Plus, this tasty herb is certified organic and has some great health benefits (Medical News Today):
Calms and supports the stomach for healthy digestion
Decreases nasal congestion
Ginger root
Organic ginger root has been used for thousands of years as a natural remedy. So, it's not surprising that Ensō included this essential ingredient in their greens powder Here is a brief look at some of its key benefits:
Anti-inflammatory
Promotes healthy circulation
Supports the immune system
Moringa Leaf Powder
This lesser-known herb is the true MVP of green superfood powders—the nutritional potency of one serving has 25x the Iron found in spinach, 3x the Potassium found in bananas, and 7x more Vitamin C than the amount in oranges!
Some of the key benefits of Moringa leaf are:
Helps lower blood sugar levels
Reduces inflammation
Rich in antioxidants
Reduce cholesterol levels
How Much Does Ensō Supergreens Cost?
Depending on the blend you choose, Ensō Superfoods costs $59.99 to $69.99 per container.
If you want more than one blend, simply select one of the bundle options to save up to $30 on your order. Bundle prices range from $99.99 for a bundle with the green superfood mix and recharge blends to $159.99 for all three superfood powders.
Where to Buy Ensō Supergreens
Ensō Superfoods are only available online. Visit ensosuperfoods.com to shop the three different blends, learn more about the health benefits of each, read verified purchase reviews, and explore other resources to learn about personal nutrition.
How Ensō Supergreens Help Our Everyday – Benefits and Effectiveness
Ensō Supergreens creates superfood powders designed to improve your physiological health & support your immune system. Key benefits of our blends:
19 certified organic superfoods
Our supergreens support:

digestion
gut health
immunity
focus and energy
metabolism
weight Loss
sleep and stress, and more!

100% plant-based, vegan and gluten-free.
Non-chalk formula and all-natural fruit enzymes make it the easiest superfoods to drink
No fillers, no added sugar and sweeteners, or artificial ingredients.